Lilli and I recently finished our digitally interactive wallpaper and we're so pleased to hear that the team at Artcodes like it. Since our brief was mostly concerned with the coding methods we needed to demonstrate rather than the context or aesthetic of the design, Lilli and I had to get our thinking caps on to decide these things before we began. We wanted to show that the application of artcodes can be meaningful and, since we both have an interest in wildlife, we started planning a wallpaper that could be used to address environmental and conservation issues, such as the bee population here in Britain, and rather than just provide facts, give people ideas and information about how they can get involved and help to make a difference.
The wallpaper could be installed either in a public environment, such as a museum for educational purposes, or in a private home. We loved the idea of it being in a summer house or a conservatory. Each time someone goes out to do the gardening they could scan the wallpaper with their artcodes app and get tips for making a bee or hedgehog friendly environment, finding out how to have a healthy ecosystem. And there is potential for the information linked to the artcodes to change over time to match the seasons or changes in animal population. It could even link to an animal survey and where to input results.
We started drawing different British animals and plants and playing with our composition. Having the different elements on separate sheets of paper meant that we could physically play with the layout. We soon settled on the idea of having four main scannable 'wreaths' with additional creatures and leaves trailing and connecting the different features. Once we had made that decision, the next step was to finalise our drawings and start encoding.
The project was really challenging because, although at first Lilli and I thought we had very similar styles, we very soon realised that collaborations can really high-light even small differences. Our first two illustrations looked nothing alike and although we had talked about colour we both applied it so differently our work just didn't gel. We spent a lot of time discussing, drawing, re-drawing, colouring and re-colouring to make sure that the final wallpaper flows naturally and the illustrations sit well with one another.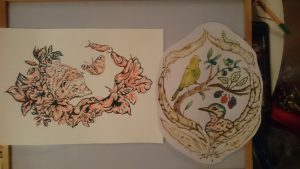 As well as a challenge, it's been an exciting project because since I last worked with Artcodes, the app has been developed even further opening up so many more opportunities for design as well as adding endless possibilities for codes. For example, whereas before the app would always attach the same numerical code to an art code it scanned, it can now read different codes depending on the angle at which an art code is scanned. The perspective alters the way the art code is understood and therefore allows different codes to be read and different experiences depending on where the viewer is standing and the angle they are scanning. This got us really excited…although it did also boggle our brains a little in the process. But we are pleased to say that all of our art codes scan with three different possibilities.
So what's next? Well, we have just finished testing different colour variations of the wallpaper to see how it affects scanning and to ensure that we can provide the best user experience possible. Once we have the final wallpaper printed we are hoping that we will be able to find somewhere exciting to install it. Since we have designed the wallpaper with both private and public environments in mind, it would be wonderful if we could find a public space to display it and encourage people to interact with the art codes.