There are many things that you can do with your Christmas with Artcodes advent calendar. Here's our list of suggestions, from the simplest (no phones involved) to the super-complex (where you learn to make your own interactive Christmas stuff).
IT'S A NORMAL ADVENT CALENDAR
As part of your pack you will notice you have a sheet of 24 Christmas stickers. Your job is to place these stickers behind the doors of your advent calendar. Just stick each one under a different door – you choose – shut the door and forget about it until its time to open the door again in December. You can do this all at once or make it a day at a time. But remember, don't fold the doors back too much otherwise they won't close again!
Stickers can be tricky things, sometimes ending up on tables, in hair or on all sorts of places where they really shouldn't be. If you need any more then you can print them out here. Either use special sticky-back paper or get some old fashioned glue.
SCAN STICKERS TO REVEAL DIGITAL SURPRISES
Where's the chocolate? Well, we have something much better for you. Go get your mobile phone or tablet and begin scanning the stickers to unlock our hamper of digital Christmas surprises. There's all sorts of stuff to watch along with tips on things to make, do and cook over the festive period.
You will need an Apple or Android phone or tablet. Then you need to install the Christmas with Artcodes app from the Apple AppStore and Google Play.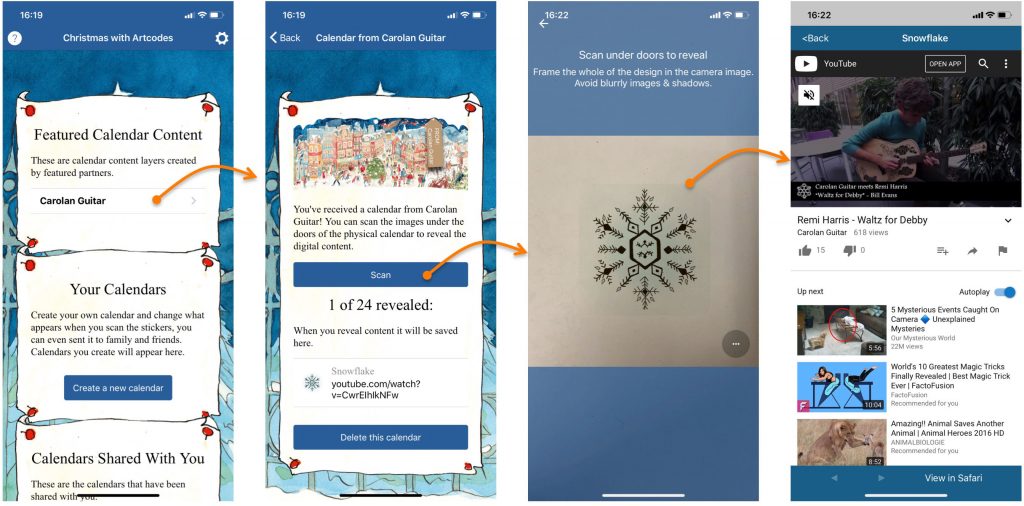 CONNECT THE STICKERS TO YOUR OWN PHOTOS OR FAVOURITE WEBSITES
Not so impressed with our suggestions? Think you could do better? Well you can. Tap the Create a new calendar button on the mail screen of the app and scan or select from list to assign content.
SHARE WITH FAMILY AND FRIENDS
You can then share your new version of the calendar with family and friends so that your digital stuff pops up when they scan a calendar – theirs or yours. Just tap Send at the top after adding content. This will give you a link to send to them over e-mail, text or social media. You'll need to go back to this "send" page if you want to push changes you have made. You can also enter a name that will be displayed in the app so that they have some idea who it is from.
You can make and share as many versions as you like.
So what do you think that mum, dad, grandparents, siblings and friends might like to see each day? Time to get creative. Of course, they'll need to install the app. They'll also need a calendar!
Tip: If you use a lot of images it can take a little while to transfer them all, we recommend doing this over wifi or 4G.
Still worried about the chocolate (we hear this a lot). Hide some chocolate around the house somewhere, take a photo as a clue and attach that to the stickers. Bingo! You have your own chocolate treasure hunt game.
Receiving a calendar
Of course, you might be on the receiving end of someone else's version that they made for you. Just download the app and open the link you received and start scanning. The app will also keep a list of versions that you have received so that you can go back to them later.
If the link is not clickable, leads to a page of text or doesn't work for some other reason simply copy the link or text and open the app to the first screen and select the option at the bottom.
DESIGN YOUR OWN STICKERS
Or maybe you'd like to replace our stickers with your own funky designs? You can draw your own Artcodes on the blank stickers provided and use them on your calendar!
Follow the drawing instructions on our Drawing your own Artcodes page to create your Artcode
In the app, tap the
button and scan your drawing
Add a photo or web address
If the app found the wrong code check the list of things to avoid at the bottom of the Drawing your own Artcodes page.
MAKE YOU OWN INTERACTIVE CHRISTMAS STUFF
Finally, if you're feeling creative, why not make your own calendar. Or even other interactive Christmas things – cards, decorations, place settings, paper hats – they can all be decorated with interactive designs and then connected to photos and webpages.
More
You made it to the end of the page! Interested in Artcodes (the tech behind the calendar)? You can use Artcodes in your own creative projects: download the free app, search for "Artcodes" on the AppStore and Google Play.